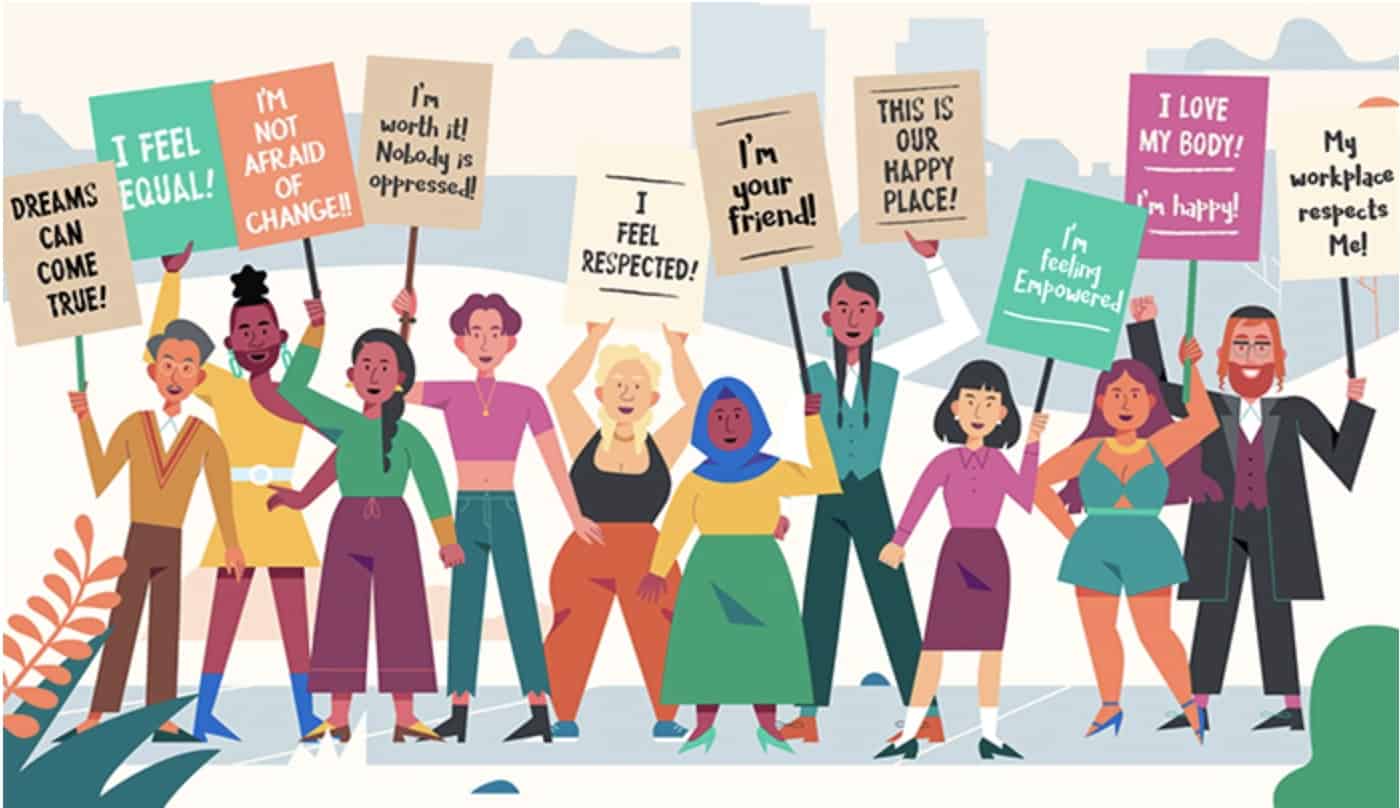 Nasz kurs ma na celu zapoznanie uczestników z procesami leżącymi u podstaw dyskryminacji, pogłębienie ich wiedzy i umiejętności, co pomoże w kształtowaniu bardziej tolerancyjnej postawy i bardziej integracyjnej kultury organizacji.
Poruszanie kwestii dyskryminacji, różnorodności i włączania wymaga delikatności i wyczucia. Dlatego opracowaliśmy kurs hybrydowy, który odpowiada na te potrzeby. W pierwszej kolejności uczestnicy biorą udział w lekcjach wideo, a następnie mogą dołączyć do interaktywnych sesji twarzą w twarz. Takie spotkania umożliwiają networking i interakcje między osobami z różnych organizacji i/lub między osobami z tej samej organizacji. Na potrzeby realizacji kursu udostępniamy podręcznik facylitatora.
Mamy nadzieję, że ten kurs pozwoli  każdemu i każdej z Uczestników i Uczestniczek stać się bardziej włączającym i otwartym na różnorodność. Im więcej wiemy, tym bardziej widzimy potrzebę dalszej nauki.
Życzymy wspaniałej przygody!
Ten kurs jest bezpłatny, ale będzie udostępniany specjalistom, którzy przeprowadzą szkolenia dla Uczestników i Uczestniczek z jednej lub więcej organizacji.
Jeśli chcesz zostać facylitatorem tego kursu skontaktuj się z info@diversity-work.eu aby uzyskać dostęp do Podręcznika facylitatora, który został przygotowany z myślą o hybrydowym formacie nauczania.
Ten kurs został opracowany w ramach projektu Diversity@Work współfinansowanego przez Komisję Europejską. Więcej informacji można znaleźć na naszej stronie internetowej pod adresem www.diversity-work.eu. Treść tego kursu stanowi wyłącznie opinie jego autorów, którzy ponoszą za nią wyłączną odpowiedzialność. Komisja Europejska nie ponosi żadnej odpowiedzialności za wykorzystanie zawartych tu informacji.
This course aims to help you develop your understanding of the processes behind discrimination; build awareness of diversity, inclusion, stereotypes, prejudice, unconscious bias, micro messages, and the discrimination chain, and to support you on your journey to become more inclusive and positively influence your organisational culture.   
Addressing discrimination, diversity and inclusion is sensitive and we believe that the course's learning objectives are best achieved by using a blended learning approach. First, you will complete the video-based lessons, after which you may have an opportunity to join an interactive and reflective face-to-face session. These face-to-face sessions will also promote networking and interaction with people from different organisations and/or between people from your organisation. With that in mind, we offer a facilitator guide upon request.
We hope this course allows you to start or continue your journey to become more inclusive. The more we know, the more we realise we need to keep learning.  
We wish you a wonderful journey!  
The course is free of charge, but we will only make it available for professionals who aim to use it with a group of people from one or several organisations.  
If you wish to be a facilitator of this course, please contact info@diversity-work.eu to access a facilitator guide which details how to plan for and facilitate sessions for this blended learning course.  
This course was developed by the Diversity@Work project, co-founded by the European Commission. For more information, visit our website at: www.diversity-work.eu. The content of this course represents the views of the authors only and is their sole responsibility. The European Commission does not accept any responsibility for use that may be made of the information it contains.  
Theme
Civil Society Strengthening
Work and Enterprise
Sustainable Development Goals
Content development partners
You might also
be interested in