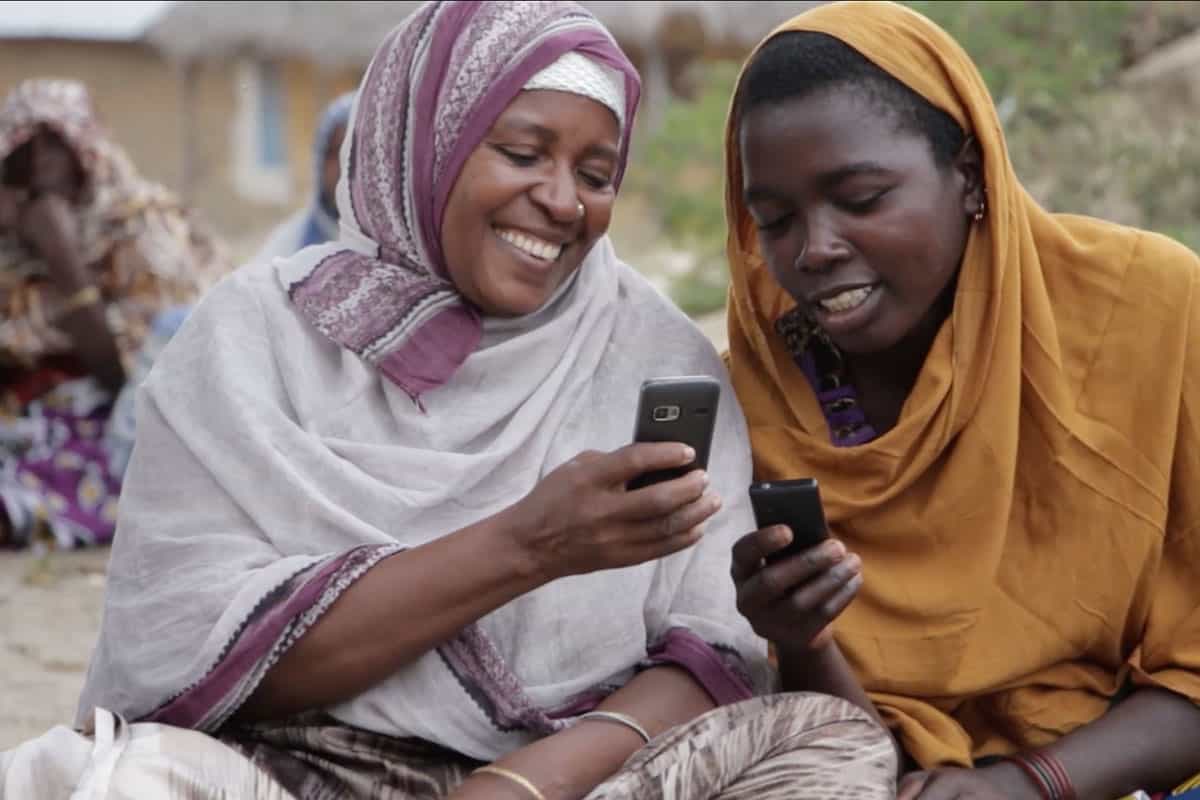 Vikundi vya kuwekeza kimtandao
Gharama kubwa katika biashara ndogo ya kupokea na kutoa pesa imekua ni kizingiti kikubwa katika huduma za kipesa kwa watu maskini khususan wale wanaoishi mashambani. Baadhi ya mbinu za gharama nafuu, kama vile kuhifadhi pesa kwenye vikundi vya kijamii zaonyesha matumainin ya ufanisi. Lakini, vikundi hizi zenye udhibiti wa kisanduku na kitabu cha kueka nakala si za kibiashara uhamasishaji na kukua kwake kunategemea pesa kutoka kwa wafadhili. Siku hizi teknoljia imefanya shughuli ya kueka pesa na kupeana mikopo kwenye vikundi vya kijamii kutekelezwa bila ya elimu ya hali ya juu. Teknolojia imesitisha utumiaji wa pesa taslim na kueka kumbukumbu wakitumia karatasi kwani pia imehakikisha uwazi kwenye utenda kazi. Vikundi vinavyotumia mfumo wa kidijitali vinakuwa na uwezo wa kujipanua kibiashara kamilifu, ama nusu biashara kwa msingi wa kujumuisha watumiaji wapya kati mfumo uliowekwa wa kijiditali.
Mfumo wa kueka pesa kidijitali uliundwa na kujaribiwa na Aga Khan Foundation (AKF) Tanzania na kuthaminiwa kifedha na shirika la Financial Sector Deepening Tanzania (FSDT), suluhu ya kuhifadhi pesa kidijitali ni jambo geni kwa jamii za mashambani katika kupata huduma za kifedha ili kueza kujiasaidia. Bila ya kutamalak pesa taslim ama kutumia nakala za karatasi, 'digitali' huondosha donda sugu la kuhakikisha usalama pia hushirikisha sekta binafsi katika mbinu mpya za kibiashara ambazo ni thabit na zenye uhakikisho wa kudumu kwa muda mrefu. Yote haya hufanyika kupitia simu za bei nafuu. Masomo mchanganyiko (kupitia video na pia kujumuika na mwalimu) ya mfumo wa kuhifadhi pesa kidijitali uliundwa makhsusan kwa wale wenye lengo la kusaidia kutekeleza muundo mzima wa vikundi vya kuhifadhi pesa kidijitali. Mawakala walioko vijijini ama wakufunzi wa vikundi vya mfumo wa kidijitali (VMK) kwenye siku za usoni watatumia vifurushi vya video kama kumbukumbu wanapokua wakifunza wahusika wa vikundi. Mafunzo kwa kikundi hutekelezwa kwa muda wa wiki arubaini (40) na baadae mawakala vijijini huendelea kuwasaidia pale panapohitajika. Mawakala hao watakuwa wakipata 'kiinua mgongo' kulingana na kufaulu kwa kikundi walicho kifundisha. Mfumo mchanganyiko wa masomo (blended learning) hupatikana kwa lugha ya kiingereza na Kiswahili, hueleza kuhifadhi pesa kidijitali ni nini, ni vipi muundo wa kidijitali watumika na ni vipi wanaweza kufundisha kikundi kufanya kazi huru.
The high cost of commercial microfinance remains a barrier to financial services for the poor and, in particular, the rural poor. Some low-cost approaches, like community-based savings groups, have shown promise. However, these groups, armed with a strongbox and a ledger, are non-commercial, and therefore training and scaling is dependent on donor funding. Technology now allows for community-managed savings and loan activities to be done with less training, because the elimination of cash and paper record-keeping assures transparency. The Digital Savings Groups (DSG) approach offers the potential for commercial, or semi-commercial scaling of savings groups, based on mobilising new users into the digital ecosystem.
Developed and tested by the Aga Khan Foundation (AKF) in Tanzania with financial support from Financial Sector Deepening Tanzania (FSDT), the Digital Savings Groups solution is a new way for remote communities to gain access to a sustainable financial service on a self-help basis. The cashless, paperless "digital" offering removes the thorny issue of money security and engages the private sector in new ways that are commercially viable, thereby ensuring long-term sustainability. This is all done on simple "candy bar" phones.
The Digital Savings Group blended learning course is designed for those who wish to support the implementation of DSGs. Future 'village agents,' or trainers of DSGs, will use the same package of videos as a reference while training groups. Group training is done over a 40-week period, and village agents will then support DSGs as needed. They will also earn commissions based on the success of the groups that they train.
The course, available in English and Swahili, explains what Digital Savings Groups are, how the digital savings platform works, and how village agents can train a group to function independently.
Sustainable Development Goals
Content development partners
You might also
be interested in