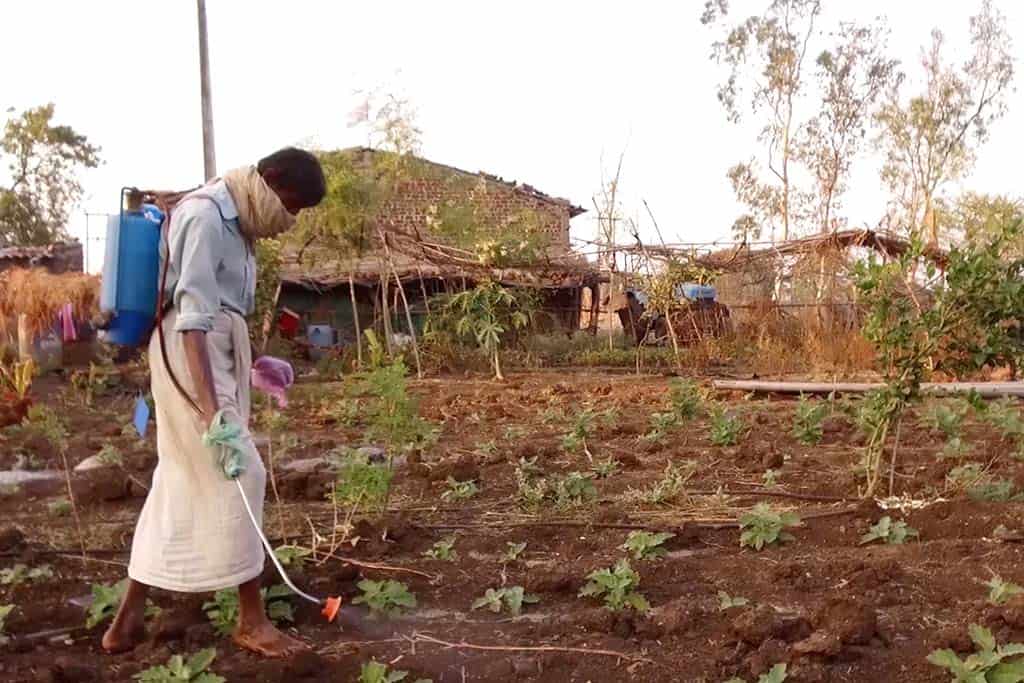 वर्तमान परिस्थितियो में किसान अपने कृषी उत्पादन को बढ़ाने तथा फसलों को किसी प्रकार के किटको एवं रोगो से दूर रखने के लिए रासायनिक खाद एवं कीटनाशको का उपयोग करते है । रासायनिक खाद और कीटनाशक का उपयोग स्वस्थ्य एवं पर्यावरण के लिए भी हानिकारक है । इसके अलावा इनकी खरीद कीमत भी काफी ज्यादा होने के कारण यह किसानो के लिए आर्थिक नुकसानकारक भी है । इन सभी परिस्थितियो का ध्यान रखते हुए किसानो को जैविक सामाग्री से बने खाद एवं किटनाशक को बना कर उपयोग करने के लिए यह वीडियो कोर्स प्रेरित करता है । इसको बनान भी काफी आसान है और इन्हे बनाने मे लगने वाली सामाग्री भी किसानो को आसानी से ही मिल जाती है । जैविक खाद एवं कीटनाशक प्रकृति, पर्यावरण और मनुष्य के स्वस्थ्य को भी नुकसान नहीं पहुचाता ; साथ ही साथ यह कम खर्च मे फसलों को सुरक्षा प्रदान करता है ।
This free video course in Hindi shows farmers in India how they can practice natural farming using organic manure and bio pesticides.The course:
Helps farmers to understand the ways in which chemical fertilisers are harmful to human health and the environment,
Motivates farmers to use organic manure and bio pesticides, and
Shows farmers how to prepare bio pesticides using readily available bio inputs.
This short online course was produced by the Aga Khan Rural Support Programme India (AKRSP-I). The video was produced as part of the Aga Khan Foundation's agriculture and food security and climate resilience programmes.
This work is licensed under the Creative Commons Attribution-NonCommercial-NoDerivatives License. To view a copy of this license, go here.
Theme
Agriculture and Food Security
Sustainable Development Goals
Content development partners
You might also
be interested in